As PDF becomes more popular, there is an ever growing need to provide security for files in this format. The Universal Document Converter equips users with all the tools required to protect PDF files.

PDF Protection from Displaying Incorrectly
Why do PDF files require protection from displaying incorrectly? The answer is simple. One of the key advantages of PDF documents is their ability always to display and print the same whatever the hardware, the operating system, or the software. It is this feature that makes this format useful for information interchange as well as long-term storage.
All PDF files created using the Universal Document Converter are protected from displaying incorrectly. The fact is that all PDF documents created using this software are compliant with the PDF/A specification (an international standard for long-term electronic document storage). These files contain everything that is necessary to display or print correctly on any computer.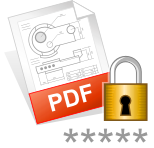 Protection of PDF Files from Unauthorized Access (PDF File Password Protection)
Presently, a variety of documents exist in PDF format. They may include some that contain confidential information. This requires PDF files to be protected from unauthorized access. This protection works as follows. Upon creation, a document is encrypted using the author's password. Once protected, the document cannot be opened without this keyword. Therefore, it is a sort of password protection for PDF files.
How can a PDF file be protected using the Universal Document Converter? It is very simple. The only thing that is required is to check a single check box in the conversion settings window and enter a keyword in a special field. This will enable password protection for PDF files. And it will not be possible to open any document created with these settings without the keyword.

PDF Protection from Misuse
How do we define PDF file misuse? Normally, it is defined as all kinds of copyright infringements, copying of text, or misrepresentation of authorship. How does one protect a PDF file from this kind of attack? To avoid incidents related to copying of text, documents created using the Universal Document Converter have a text layer. At the same time, all pages are images whose text, understandably, cannot be copied just like that.
Another tool within the Universal Document Converter to protect PDF files from misuse is the text or image-based watermark functionality. It can be used to place a company logo, for example, or a string with the author's name in every page of a document being created. Watermarks can be made translucent not to interfere with reading, placed anywhere, etc. At the same time, watermarks are an integral part of a document which is practically impossible to remove.
In Summary
In conclusion, it could be noted that the Universal Document Converter implements everything that is required to protect PDF files. And the tools being proposed are fairly simple to configure. The system of profiles (capability to save settings and load them quickly at a future time) makes their use very easy.