Fields of Application
Exchanging documents in the Adobe PDF format protects you and your clients from any technical difficulties.

Documents converted to JPEG or PNG graphic formats can be easily inserted into your PowerPoint presentations without any problems.

Publishing presentation materials and product catalogs in the Adobe PDF format offers clients all needed information in a reliable and change-protected form.

Converting documents into the TIFF format guarantees high printing quality and simplifies work with printshops and publishers.

Universal Document Converter reduces your expenses on the development of a corporate workflow system.

News and Articles
August 29, 2013
fCoder Group, Inc. announced the newest Universal Document Converter 6.0 release. With the updated version of Universal Document Converter customers are able to convert any type of a document into an image file or save document as a searchable PDF.
July 4, 2013
Did you know that the PDF is turning 20 this year? PDF has undergone through various modifications and updates since its invention in the early 1990s. We invite you to join us in celebrating the 20-th birthday of PDF. And we have a little gift for you in end part of this article :-)
June 27, 2013
fCoder Group, Inc. presents Universal Document Converter 5.8. This new version is compatible with Microsoft Windows 8.1 and contains several fixes as requested by customers.
May 23, 2013
fCoder Group presents Universal Document Converter 5.7. The new version of the program features numerous fixes and enhancements suggested by users.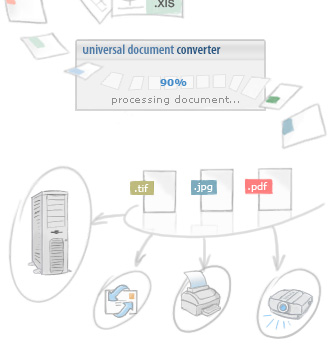 Customer Testimonials
We are very satisfied with Universal Documents Converter, which we use many times every day. As Universal Document Converter is only a printer driver it is fast and easy for us to use!

Peter Hovmann, MAN B&W Diesel A/S
In the past we had first to print documents and then to scan them to TIFF format for archiving. Now we are using Universal Document Converter, which enables us to save a lot of time and paper.

Hartmut Trepte, Siemens AG
The easy of use and the ease of outputting documents to a graphic file format makes Universal Document Converter a must for any business, webmaster or individual user.

Darren Blackley, Curtin University of Technology
The result of each conversion is very, very close to the original. It is important for us because we have to print on preformatted paper and we cannot accept any difference!

Marc Dubray, Honeywell International, Inc.